Let's cover the basics...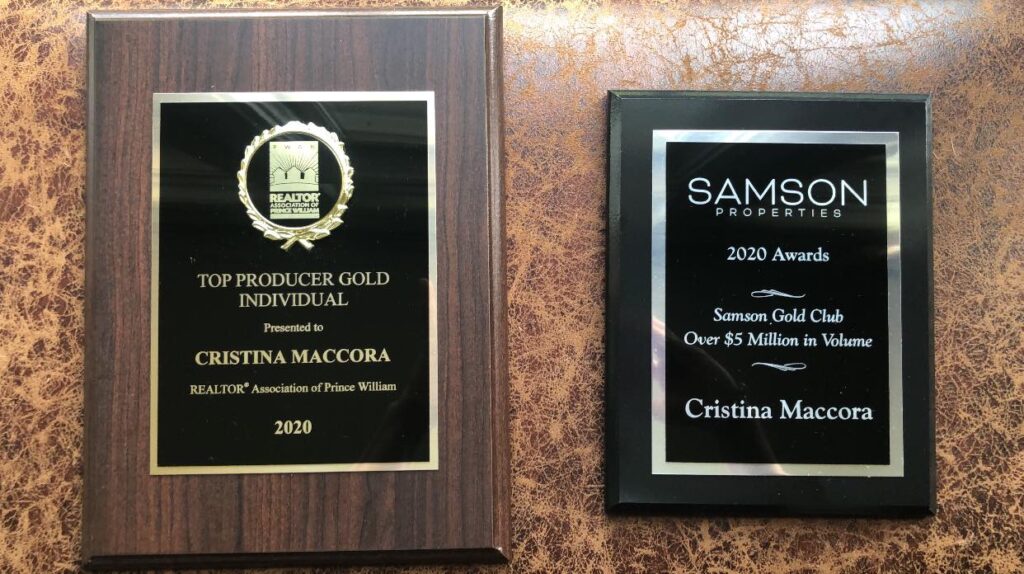 TOP PRODUCER 2017-2018-2019-2020-2021!
What an honor! Not only I have received the 2020 Top Producer Award, also my company also recognized my work! Thank you Samson Properties!
Hello, my name is Cristina Maccora and I am a top producing Realtor affiliated with Samson Properties in Northern Virginia (NOVA).
I am a proud mother of a talented teenager, Alessandra, and wife of a caring US Navy Aviator, Arthur.
I earned a Master's Degree in Political Science (summa cum laude) and worked for the US Navy, in Naples Italy, for about a decade. When my family and I moved back to the US from Italy, I decided to work less behind a desk and more with people: I changed my life and started a fun career in Real Estate.
I pride myself on being up-to-date in the Real Estate Industry, therefore I have already earned the most important Certifications and Designations offered to Realtors in Northern Virginia.
Military Relocation Professional – MRP
Certified International Property Specialist – CIPS
Accredited Buyer's Representative – ABR
Seller Representative Specialist – SRS
Pricing Strategy Advisor – PSA
Graduate Realtor® Institute Designee – GRI
Internet Professional – ePro
GREEN Designee.
I volunteer as an Italian Teacher at the local middle and high Schools, as I love sharing my knowledge and heritage with these amazing young adults.
My ex-colleagues, friends and family describe me as a "people" person, energetic, efficient, professional, very positive, dedicated, results-driven, and detail oriented.
I believe in quality over quantity and will always represent your best interests! I am passionate about Real Estate and I care about my clients and their happiness.
I can offer you a wealth of knowledge and personal services to guide you through all your real estate needs. Please contact me, whether it is to get started on helping you realize your goal and dream of finding your perfect home, or selling your lovely home, or just to ask a question – no pressure, no hassle, no obligation – just a friendly conversation.
I would welcome the opportunity to make a difference for you. I service all of Northern Virginia and my main office is in Lake Ridge (Woodbridge, VA 22192).  I am available to answer your questions, reply to calls, emails and text messages in real time. Try me right now! Find me on Facebook at Northern Virginia Agent for Real Estate – Cristina Maccora or Whatsapp.
I work with a team of home inspectors, lenders, lawyers, and title companies that will be glad to assist you throughout the process. If you have your own crew, I will be more than happy to join in as I have always been a great team player.
I understand that buying your new home may depend on selling your current home. I will be happy to evaluate and market your home for you. If you live outside my area, I can refer you to one of my many associates around the country.
My adventure in Real Estate
I started my career in Real Estate here in Northern Virginia by joining Coldwell Banker Residential Brokerage (CBRB).
I had just landed in the U.S.A. from Italy, leaving behind a successful career as an IT specialist for the great US Naval Hospital in Naples where most of my dearest friends still reside. A decade of growth, both professional and personal.
I could have pursued the same career here in the US, but my gipsy soul screamed for a change, for a new challenge.
I trained in the Coldwell Banker Office in Vienna: I am very thankful to CBRB and especially my coworkers for all the education, guidance, help and fun they provided to the new Agent on the block. I was initiated to this wonderful and tough career in a huge corporation, by good people who kindly bore with this crazy lady with a funny accent, loud, and always chirping around. It was a pleasure working with some of the top producers of Northern Virginia! I felt lucky and honored and many of them I still deal with in Real Estate today.
At one point of my career as a Real Estate Professional, my unsettled soul realized that, once again, time had come for a change; less dramatic this time: same career but a new brokerage. This was one of the best choices of my life.
Getting out of my comfort zone, and transitioning into Samson Properties, I became re-energized, met new fine agents, the awesome owner of the company, Mr Danny Samson, and my terrific Managing Broker, Mr Mike Briggs. In this growing, highly competitive, and family-oriented Agency – so well known in the Washington Metro area (DC, Virginia, and Maryland) – my gipsy soul has been camping ever since.
I strongly believe that any opportunity to grow professionally and as an individual cannot be passed by. I cherish memories but I love changes and I always try to move forward. Sometime all we need to do is take a leap of faith and make the jump!
Now it is time for you and I to team up and jump into your new Real Estate adventure together: you are welcome to stop by my office at 4500 Pond Way, Suite n.100,  Lake Ridge VA 22192 (in Woodbridge) and have a chat about your next step into the Real Estate world. I work primarily in Prince William County and areas of Woodbridge, Lake Ridge, Dumfries, Triangle, Manassas, Gainesville, Lorton, Fairfax, Clifton, Alexandria, Arlington.
Read about me in this article
Next Steps…
Take you Real Estate experience to the next level by hiring a specialist. Ask me how to save you money by purchasing or selling your home.